For most people, the time of Xmas represents hope, peace, and joy. The dinner table is set with the anticipation of a large family gathering and one realizes that small wonders are still possible, such as meeting your daughter or grandson after a challenging few years. As this year draws to a close, our wish is to find a little comfort this holiday season and take pleasure in the many blessings that are yet to come into our life. From the light on the Christmas tree to the poinsettia leaves, the colours green and red are the main additions to any Christmas home décor. Select a few sentimental pieces or DIY décor that reflect your mood whether its – classy, white, or colourful.
There are a multitude of Christmas trends, you can aim for, in 2022- you may decide between Minimalist, Retro game or even a Unicorn theme! If you plan on keeping your classical living room White and rustic this December, then circulate your interior spaces with the latest White chandelier ceiling fan – the LUX SLR0040. Its retractable clear transparent blades offer a soft gentle breeze when you are entertaining family and friends. Moreover, it may be viewed as white Chandelier lamps, when you prefer only the illumination and not the air circulatory ceiling fan component.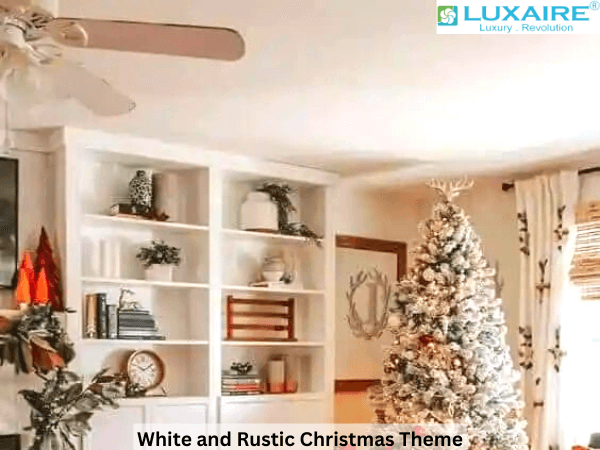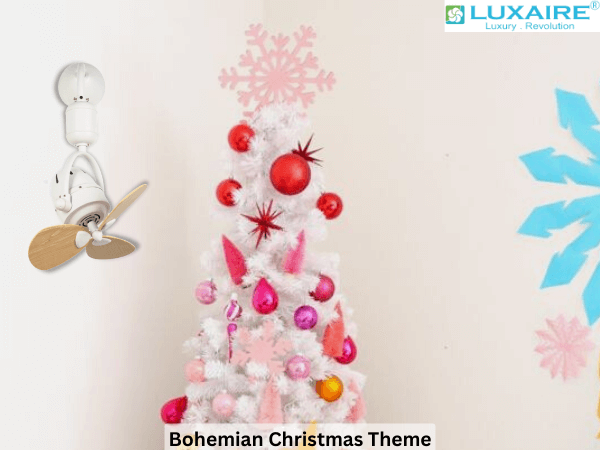 If Boho chic or Bohemian is your theme with pom poms, on a whimsical candy Christmas tree, then a maple wooden finish, ceiling drop mounted cum designer wall fan, can do the trick while you maintain that pendant light or jhoomer in your dining room for luminance. You may match the neutral white motor and pinewood blade fan with your dining table/console and this look, does not clutter your false ceiling or wallpaper design.
Whatever your interior theme this month, you can be sure of durability & high-quality matching fans when you renovate from the Luxaire designer fans collection.