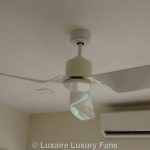 Luxaire has over 650 Original Modern & Contemporary Designs of Decorative & Designer Ceiling Fans. These are great for Luxe Homes, Hotel/ Resort/ Restaurant projects.
USP:
There are many reasons to buy Luxaire Decorative Ceiling Fans in a world filled with 'me too' designs. Unique Exclusive Fan designs have different sizes, materials & Green technology. Noise-less feature ensures silent sleep and conversations. Modern day Convenience with Remote or Automation are todays preference.
Savings:
Energy-efficient BLDC Luxury Fans are the best deal with Fancy Ceiling Fans nowadays. How can you beat 65-80% energy savings compared to ordinary fans in summer? This is coupled with 10% savings in winter ! For instance: If a person uses eight BLDC Luxury Ceiling Fans of Luxaire in their new home, it translates to about 15,000-16,000 Rupees yearly in energy bills. Above all, Luxaire has upto 15 years motor warranty. This is the highest in the Industry.
Application:
Top architects & interior designers regularly use these Luxury Decorative Fans with LED light & remote. Today there are many different themed interiors – like Modern, Contemporary, Industrial, Mid century, Rustic, Classic/ Vintage/ Retro & Funky. However, there are varied Designer Fan model sizes from 30″ to 84″ dia. These are ideal for compact Apartments to Huge Villas, Bungalows, Farmhouses & Hotel/ Resort interior spaces. Most importantly, they're also differentiated for usage in low, to high ceiling spaces. One can use Exclusive Decorative Fans for their Living, Dining, Master bedroom, Guest room, Kids room, Home theatre, Bar and Gazebo/ Balcony /Terrace.
Above all Luxaire delivers across India & South Asia. Therefore, Hotel Designers may place orders for Luxaire Decorative Fans for their new projects in Maldives, Mauritius, Seychelles, Sri Lanka, Nepal & Bhutan. Similarly Exports are also possible to Kenya, Tanzania, South Africa, Dubai, Kuwait, Oman, Muscat, Qatar, Malaysia, Singapore, Vietnam, Laos & Thailand.